The holiday season is just around the corner and consumers are already ramping up their shopping. For example, U.S. searches for "holiday gift ideas" in August have already surpassed 2020 levels. As of June, 58% of U.S. holiday shoppers said they will shop online more this season than in previous years and 59% said they will shop earlier to avoid an item being out of stock.1
Consumers are leaning into the blended online and in-store shopping experience, with digital-first behaviors like curbside pickup and buy-online-pick-up-in-store likely to continue as we head into the holidays. As of mid-August, 70% of U.S. shoppers are buying the majority of the items they need in stores, compared to 61% in June.2 For more holiday insights to help you prepare for your busiest season, tune in later today for Think Retail on Air at 10 a.m. PDT. 
Get ready to meet customers wherever they like to shop! Here's a checklist to help you maximize success during the most important shopping season of the year.
1. Highlight your differentiated fulfillment options
Quick shipping and easy returns are top-of-mind for shoppers this year; 78% of U.S. holiday shoppers say they will shop at stores that offer free shipping.3 Today, we are announcing new shipping and return annotations in Google Search and Shopping results – across free and paid listings. Shoppers can now see when their orders will arrive, with shipping annotations like "Free delivery by Fri, Dec 24," "Get it by Dec 24" and "Free X-day" for products that ship for free in five business days or less. 
To give shoppers more confidence in their purchases, you can now indicate extended holiday return windows with return annotations like "Free 90 day returns" or "Free returns until Jan 31." EU member states are in the process of implementing the European Copyright Directive into national law. These changes include the incorporation of Article 15, which introduced a new copyright for press publishers, and Article 17, which introduced new rules for certain content-sharing services like YouTube. Here's a little more on what YouTube in particular is doing. 
Developing our compliance plans
YouTube supports updating copyright rules for the digital age and has been working closely with policymakers across Europe on Article 17's implementation and on a means of compliance that best meets the needs of our partners' growing businesses, while also continuing to contribute to the economy. For example, YouTube's creative ecosystem contributed approximately €775 million to Germany's GDP in 2019, supporting the equivalent of 25,000 full time equivalent jobs, according to Oxford Economics. As we develop our compliance plans, it's important to us that the fundamental rights of rightsholders, including media companies, creators, artists and users, are protected. At the same time, supporting the creative industries such as the YouTube creators who are building next generation media companies that impact the economy's overall success, is a priority to us.
Implementing Content ID for better creative control
YouTube has long believed that effective rightsholder management is key to a healthy business and flourishing creativity. This is why we created a set of copyright management tools, for example, investing over 100 million U.S. dollars to develop our Content ID technology which allows rightsholders to manage their content across the platform in a highly nuanced and sophisticated way. YouTube has worked with rightsholders such as record companies, labels, music collecting societies and film and television creators and producers for many years. In fact, Content ID enables rightsholders to control and manage their content on YouTube, while also gaining a new source of income. More than 95% of the time when rightsholders claim content through Content ID, they choose to allow the content to remain on the platform and earn money generated by ads and subscriptions, rather than block the content. This has resulted in an entirely new revenue stream.  Over the last three years alone, YouTube paid $30B to media companies, creators and artists, and in the last twelve months, YouTube paid over $4B dollars to the music industry, 30% of which came from user-generated content monetized through Content ID.
Copyright Match Tool
We are also expanding access to more copyright tools for more creators. For example, we recently expanded our Copyright Match Tool so that any rightsholder who successfully submits a copyright removal — whether they host their content on our platform or not — can have access to our matching technology and are able to manage their copyrighted material in a powerful, efficient and user-friendly way. We also allow rightsholders who submit copyright takedown notices to request that YouTube prevent copies of the same content from being uploaded in the future. Additionally, we will be hosting a webform in our help center to enable interested parties to reach out to us for licensing discussions. 
We continue to find new ways to help creators and rightsholders manage their rights on YouTube while growing the amounts we pay to the creative industries and will continue to work with policymakers, rights owners, partners and creators across the region to ensure an effective implementation of the new copyright laws. 
Every day, our global teams field questions from publishers seeking to learn more about privacy topics like the end of support for third-party cookies and the Privacy Sandbox.
To help partners stay current on these topics and more, we've created a new publisher privacy video series that addresses questions we hear most often. Each episode will be brief – five minutes or less – and will be released every few months to keep partners informed about new developments. 
The first episode of the series is designed to provide a base level of understanding around ads privacy before we dive into deeper or more timely topics.
Questions answered in episode 1:
Stay tuned for the second Publisher Privacy Q&A episode coming in October. In episode 2 we'll take a much closer look at how the Privacy Sandbox protects user privacy and what publishers and advertisers will be able to do with it.
Our CEO, Sundar Pichai, sent the following email to Google employees earlier this morning. The email has been edited to remove internal links.
Hi Googlers,
The COVID-19 pandemic has been a humbling challenge for all of us and I continue to be impressed by the way our teams are navigating through it. In spite of these challenges, I'm happy to say that a large number of offices globally are already open for business, and we are welcoming back tens of thousands of Googlers on a voluntary basis. Given that conditions around the world are still highly variable, I wanted to share how we're planning to approach the next few months:
First, as offices continue to reopen, we hope to see more teams coming together where possible, whether it be for regular team meetings, brainstorming sessions around a whiteboard, or outdoor socials. For some locations, conditions are starting to improve, yet in many parts of the world the pandemic continues to create uncertainty. Acknowledging that, we'll extend our global voluntary return-to-office policy through January 10, 2022 to give more Googlers flexibility and choice as they ramp back. 

Beyond January 10, we will enable countries and locations to make determinations on when to end voluntary work-from-home based on local conditions, which vary greatly across our offices. To make sure everyone has ample time to plan, you'll have a 30-day heads-up before you're expected back in the office.

Finally, encouraging Googlers to rest and recharge during this time remains a big priority so we will plan two more global reset days next quarter: Oct 22 and Dec 17. 
The road ahead may be a little longer and bumpier than we hoped, yet I remain optimistic that we will get through it together. It's heartening to see Googlers starting to come back to more offices globally. The ability to reconnect in person has been re-energizing for many of us, and will make us even more effective in the weeks and months ahead. Thanks for all the great work thus far; look forward to a busy Q4 as we continue to find new ways to be helpful to people everywhere. 
-Sundar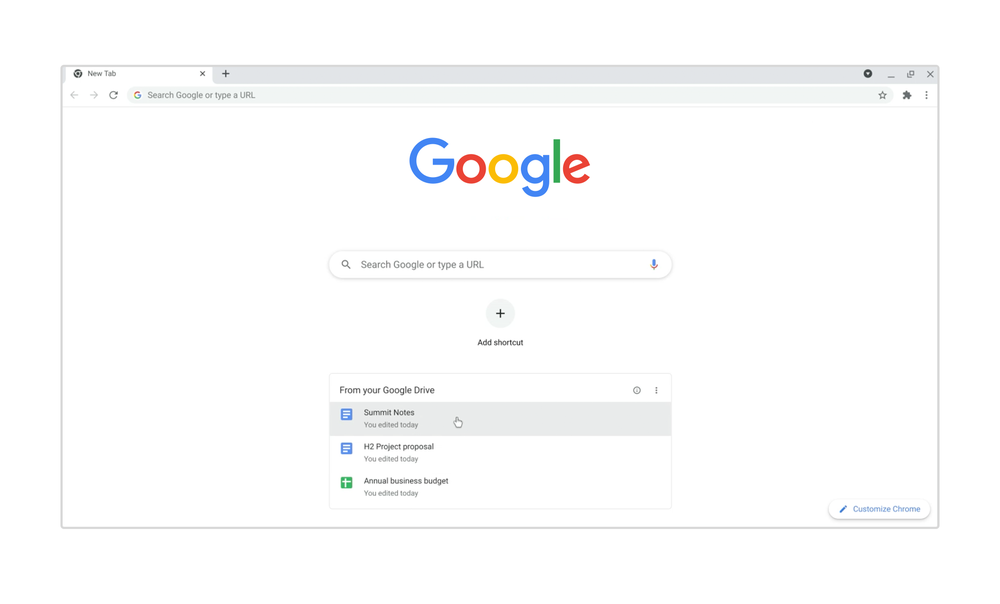 When we work on new features for Chrome, we rely on feedback from the millions of people who use it every day. Hearing from people helps us build better features for them. And test builds, like Beta channel of Chrome, are some of the best ways for us to get input on new features, so we can fine-tune them before they are released. 
Flags and experiments in Chrome Beta let you choose which in-development features you want to test out before they hit the main stage. With our latest Chrome Beta release, you can try out some upcoming features that can help you more easily explore, keep track of, and share the things you find on the web.
Get things done faster with cards on the New Tab Page
Looking for that taxes spreadsheet you opened yesterday, but don't want to spend time searching through your history? We're starting to roll out cards on the New Tab Page that help you pick up where you left off based on your browsing history if you are signed into Chrome. The cards make it easy to revisit past activities or tasks, like planning a meal, shopping for a gift or working on a document in Google Drive. Try the feature by enabling the #ntp-modules flag on your computer. Here are a few ways they'll show up:
Recipes (#ntp-recipe-tasks-module): Find recently-visited and related recipes when you open a new tab, so you can rediscover that delicious-looking marinara recipe, and others like it.
Shopping Cart (#ntp-chrome-cart-module): Don't lose that deal — pick up on your shopping right where you left off. When you step away or browse on other sites, you can jump back into your open carts just by opening a new tab.
Docs (#ntp-drive-module): Cards on the New Tab Page can help you find your way back to recent documents you've opened in Google Drive. They can also help you find relevant docs recently edited by collaborators, so it's easy to cross things off your to-do list. 
Note – this blog post includes stories of loss, and may be upsetting for some readers.
Google is committed to improving the lives of as many people as possible. This includes promoting awareness to prevent drug-related overdoses and deaths, and highlighting recovery support services for people in or seeking recovery from addiction. For parents like us who've lost children to drugs, this mission to help and heal families is deeply personal. 
We've chosen to share our stories today, which is International Overdose Awareness Day, a global event to bring attention to the issue of drug overdoses and to reduce the stigma associated with both drug-related deaths and non-fatal overdoses. The Centers for Disease Control and Prevention (CDC) reported overdose deaths in the U.S. accelerated during the COVID-19 crisis, as people struggling with depression, anxiety and substance use disorders experienced increased isolation, fear, desperation and hopelessness.
More than 93,000 people died of a drug overdose in the U.S. in 2020 ー the highest number of overdose deaths ever recorded in a 12-month period. As Google employees and fathers who recently lost our own sons to overdoses, these numbers are more than just statistics to us. They are our children's lives cut short, their futures stolen. We're sharing our stories here in hopes of helping others gain the knowledge and find the resources to prevent future overdose deaths.
Jan's story: Remembering Linus

Secondo quanto riportato da un noto analista, iPhone 13 consentirà connessioni 5G satellitari, aumentando l'accessibilità a Internet.
Una console next-gen, accesso istantaneo a oltre 100 giochi con Xbox Game Pass e cloud gaming da oggi in Italia grazie a GameStop.
A otto anni dal lancio, la piattaforma di messaggistica continua a crescere nel gradimento del pubblico a livello globale.
Imagine a world where you could decarbonize your business just by asking your energy provider to do so. That's exactly what we're setting out to do at Google: to show it can be done, but more importantly, to make it easier for others to do the same.
Today's agreement with ENGIE, a large European utility, is helping us do just this. As part of our broader announcement that, between now (2021) and 2030, Google will be investing approximately 1 billion euros in digital infrastructure and clean energy in Germany, Google has signed a first-of-its-kind agreement in Europe to purchase the clean energy that will help ensure that our operations in Germany will operate at nearly 80% carbon-free energy on an hourly basis beginning in 2022. In line with our 2030 commitment to operate on carbon-free energy 24/7 at all our campuses and data centers worldwide, we will continue to work to increase this percentage to 100%.
Beyond our own goals, this agreement establishes a roadmap for other companies to follow as we work together to decarbonize electricity use and support Europe's green recovery. 
A new way to buy and sell clean energy
Sourcing carbon-free energy every hour of the day is an incredibly difficult task and will require innovative technological and contractual solutions. In 2010, Google became an early pioneer of purchasing carbon-free energy through individual Power Purchase Agreements (PPAs), complex arrangements that not all energy customers are able to use. Companies can also purchase clean energy via unbundled Energy Attribute Certificates (EACs), which historically have a limited impact on driving clean energy deployment, though we are working to change that. To completely decarbonize our operations — and to make it easier for other organizations to do the same — we are working with our partners to rethink how we buy carbon-free electricity.
Under the terms of the agreement we are announcing today, ENGIE will assemble and develop a carbon-free energy portfolio on Google's behalf that has the ability to flex and grow as our needs change in the region. 
Jointly with ENGIE, Google will purchase electricity from 23 renewable energy projects in five German states. Some will be newly-built from scratch. Others (such as existing onshore wind projects that will no longer receive national subsidy support) will see their life extended, so they continue to produce clean electricity instead of being dismantled. By working with our energy suppliers to transform the way clean energy is delivered to customers, Google is supporting Germany's decarbonization goals.
A greener cloud for Germany and beyond
Together with today's announcements of a new cloud region in Berlin-Brandenburg and the expansion of our existing cloud region in Frankfurt, we are pleased to continue delivering one of the cleanest clouds in the industry to our customers. More and more companies are incorporating environmental, social and governance targetsinto their technology strategies. We're committed to help  IT organizations, and our users, take action today to lower the carbon emissions of their cloud applications. Because of this agreement, European customers will have another low-carbon option where they can run their cloud workloads.  
We are excited to add more projects like this in the coming years and continue to work on solutions to reach Google's ambition to operate on carbon-free energy every hour of every day by 2030, all while supporting Europe's green transition. Already today, two thirds (67%) of our energy needs are met with locally sourced clean energy on an hourly basis. We will continue to report on our progress, and to share tools and best practices with the wider industry to advance decarbonization on a global scale.
Da qualche giorno impazza non solo tra gli appassionati e gli specialisti ma anche nei media di massa una notizia secondo la quale il prossimo iPhone, il 13, sarà dotato della capacità di telefonare via satellite.
ANSA, per esempio, parla di "connettività satellitare LEO", dove LEO sta per Low Earth Orbit (orbita terrestre bassa), e precisa che si tratterebbe di "connessione internet" da fornire "in luoghi che non dispongono ancora di torri trasmittenti", quindi di un sistema satellitare bidirezionale. Ne parlano anche Punto Informatico, Engadget, Gizmodo, HDBlog, Business Insider, The Verge, CNBC, Slashdot e tanti altri.
La notizia, però, si basa esclusivamente sulle dichiarazioni di un singolo "analista esperto di affari di Apple, Ming-Chi Kuo", che a loro volta si basano su una sua deduzione riguardante la presenza di uno specifico componente nei futuri iPhone. Questo componente, secondo lui, rivelerebbe l'intenzione di Apple di usare le reti satellitari per i propri telefoni.
Ma c'è un fatto tecnico che indica che si tratti molto probabilmente di una bufala generata da un equivoco, a meno che Apple abbia realizzato almeno un paio di miracoli tecnologici.
Il fatto tecnico è che un telefonino che faccia comunicazione satellitare bidirezionale ha bisogno di un'antenna piuttosto ingombrante, che non può essere miniaturizzata più di tanto.
I telefonini satellitari attuali, quelli capaci di fare e ricevere telefonate e connettersi a Internet collegandosi a satelliti, hanno antenne come questa:
Ci sono anche dispositivi satellitari con antenne meno mastodontiche, ma non consentono di fare chiamate o di connettersi a Internet: sono i cercapersone satellitari, come questo di Garmin, che consentono di inviare e ricevere brevi messaggi di testo, e sono i dispositivi di localizzazione di emergenza via satellite (PLB o Personal Locator Beacon), come questo o addirittura integrati in orologi da polso, che non possono mandare neanche messaggi ma si limitano a inviare ai satelliti di localizzazione un semplice segnale radio che dice soltanto "io sono qui".
Sono estremamente compatti, ma hanno comunque un'antenna cospicua e sporgente, che va estratta per usarli. Riuscite a immaginare un iPhone con un bozzo antiestetico del genere? O due fili penzolanti? No, vero?
A scanso di equivoci, aggiungo che è vero che gli attuali iPhone comunicano con i satelliti GPS, ma è una comunicazione unidirezionale, non bidirezionale. Per usare il GPS i telefonini si limitano a ricevere segnali dai satelliti, ma non ne trasmettono (cosa che richiederebbe appunto un'antenna piuttosto ingombrante). Qui la diceria parla di trasmettere e ricevere. Addirittura di fare chiamate a voce.
—
Ci sono varie ipotesi sulla genesi di questa storia: una è spiegata qui da Sascha Segan. In ogni caso, sembra che tutto sia iniziato dal fatto che un chip presente a bordo dell'iPhone 13 sarebbe in grado di usare la banda di trasmissione denominata b52/n53 (a 2,4 GHz), che Globalstar vuole adoperare per potenziare le comunicazioni cellulari, e siccome Globalstar è nota per le comunicazioni satellitari qualcuno ha immaginato che questo volesse dire che l'iPhone 13 potrà fare telefonate via satellite.
Un'altra ipotesi è che, come segnala Mark Gurman su Bloomberg sulla base di indiscrezioni, Apple stia lavorando all'idea di offrire funzioni di sola messaggistica satellitare nelle versioni future dell'iPhone, non nella versione 13 ("the features are unlikely to be ready before next year […] The features could also change or be scrapped before they're released"). Questo potrebbe aver portato al malinteso.
Sapremo come stanno realmente le cose tra un paio di settimane, alla presentazione dell'iPhone 13, che intanto grazie a questa diceria ha ricevuto montagne di pubblicità gratuita.
I giocatori di tutto il mondo possono ora confrontarsi in tornei settimanali di Tom Clancy's Rainbow Six Siege su PlayStation 4.