 WordPress 5.8, seconda major release del CMS prevista per il 2021, è disponibile in versione beta. Analizziamone le funzionalità principali
As the pandemic has unfolded in India, it's been humbling and inspiring to see individuals, communities, institutions, and governments work together to manage the impact of a crisis on a scale we haven't experienced before. Technology has played a critical role, and our focus at Google has been on making sure people have the information and tools they need to stay informed, connected, and safe.  
We have worked to surface timely and reliable health information, amplify public health campaigns, and help nonprofits get urgent support to Indians in need. In April, through our philanthropic arm Google.org, we announced grants totaling $18 million (135 Crore INR) to expand the reach of public health information campaigns and support emergency relief work. 
Today, as India slowly emerges from the crisis of the past few months, we are turning our focus to helping strengthen India's healthcare infrastructure and workforce — especially in rural areas.
Building on our overall COVID-19 response, we are announcing new commitments to GiveIndia, PATH, Apollo Medskills and ARMMAN, focused on setting up oxygen generation plants and expanding the health workforce by strengthening COVID-19 management skills among frontline workers. 
Google.org will support procurement and installation of approximately 80 oxygen generation plants in healthcare facilities in high-need and rural locations with new grants totalling approximately $15 million (109 Crore INR) to GiveIndia and PATH. The two organizations will work together to oversee the oxygen program, providing project management support. PATH will identify the target locations and provide technical assistance, working with state governments and other authorities, and complete the installation of the plants. 
As part of our new commitment, Google is also investing in the efforts of Apollo Medskills to help upskill 20,000 frontline health workers through specialized training in COVID-19 management. This will complement and strengthen the stressed rural health workforce and rural health systems. 
To further bolster these efforts, Google.org will provide a $500,000 (3.6 Crore INR) grant to nonprofit ARMMAN. ARMMAN will run skilling programs for 180,000 Accredited Social Health Activists (ASHAs) and 40,000 Auxiliary Nurse Midwives (ANMs) in 15 Indian states. It will also set up a call center to provide additional help and advice for ASHAs and ANMs where required.
Google is proud to be supporting these organizations as they build a bigger, better-equipped healthcare workforce, help India steady itself after the pandemic's second wave and lay the foundations for a sustainable healthcare system over the longer term.
Individual voices play an important role in the news and information we consume. With so many complex, important stories unfolding daily, people not only rely on specific publishers for the latest news, but also increasingly turn to trusted individual journalists, authors and experts.  
We're committed to helping people access timely, authoritative news and information from a variety of different sources, as well as investing to help sustain a quality news ecosystem. Earlier this year, we launched Full Coverage in Search to make it easier to explore all aspects of a story from different perspectives. We also launched the fact-checking Open Fund to help journalists around the world correct misconceptions that circulate online and offline. Today, we're rolling out a beta feature in Search to help people learn more about an individual journalist or author by more prominently highlighting their recent work. 
Currently when you search for a certain journalist or author, you might see an information box (also known as a knowledge panel) at the top of your results that provides a quick snapshot of information about that person. Starting today for a small subset of these journalists, we'll begin including a carousel of their published articles on the search results page. This carousel will help you quickly understand what subjects that person has recently covered and make it easy for you to find some of their latest work.
On June 17, our first-ever physical retail store opens its doors for business in New York City. This new space will be a natural extension of our commitment to NYC and provide customers with hands-on interaction with our lineup of devices and services — from Pixel phones and Nest products to Fitbit wearables and Pixelbooks. To mark the occasion, here's a look inside the Google Store in Chelsea  — from our commitments to sustainability to new product experiences throughout the space.
A peek into our process
As we began the process to create our first retail store, the number of details to consider was daunting, but the opportunity at hand was amazing. We wanted our first store to reflect the same approach we take to designing our products: making sure they're always helpful to people. The result is a space we believe is warm and inviting, while providing new ways to celebrate and experience Google through our phones, displays, speakers, wearables and more.
We began with group brainstorms in Mountain View across all our teams which were led by our designer, NYC based architect Reddymade. A concept for this physical space began to take shape — one that we felt lived up to our brand and mission.
Our excitement grew as we built a full-scale mockup of the space at our retail hangar in Mountain View, where we could test every element and make sure each one felt just right: the space, the layout, the technology and the overall experience each guest might have. We considered every immersive way people could learn about all the features of our Pixel phones and Nest products, and see how the best of Google's software and services come to life when using them: products like Google Search, Google Assistant, Google Maps, YouTube, Stadia and many more.
It was equally as important that our first store continue this work, and our commitment to sustainable design began on day one. Every element of the Google Store — the materials, building processes, mechanical systems and more — was painstakingly considered and selected. For example, the veneer on the walls is a soft gray responsibly sourced hickory, each lighting fixture is energy efficient and our custom cork and wood furniture was created with a local craftsman from Greenpoint, Brooklyn. We even attached our carpeting (which was manufactured with recycled materials) in a sustainable way.
We're honored to have worked with the U.S. Green Building Council in this process, and we now can share that the Google Store Chelsea is one of fewer than 215 retail spaces in the world to have achieved a LEED Platinum rating — the highest certification possible within the Leadership in Energy and Environmental Design green building rating system.
Take a look inside
As you approach our new store, the first thing we hope you'll notice are beautiful physical and digital product displays lining the store's windows, which offer a peek into our products and their features. And as you enter the store, you will find a light-filled space that's centered around experiencing the helpfulness of our products. 
Near the main entrance, you'll find a 17-foot-tall circular glass structure (designed and engineered with local New York partners) that we're calling the Google Imagination Space. With custom interactive screens that feature rotating exhibits for visitors to experience the best of our products and technologies, we're beginning with an experience built around Google Translate and our machine learning capabilities. As you speak to the exhibit, you'll experience real-time translation of your speech into 24 languages simultaneously, and then learn how this all happens on the back end using several Google technologies. These same capabilities are also available across many of our devices — right in the palm of your hand.
For those who want to get up close and personal, every part of the store invites hands-on interaction with our products and services. Not quite sure where to start or want to learn more about specific features? An expert store team is on hand to answer questions, offer repairs and troubleshoot issues on the spot. 
Exploring the rest of the store, you'll find new ways to experience the best of Google's hardware and services:
A person walks past a gallery of Nest products, each individually encased in a small lit-up box.

All in one place. The Nest Gallery Wall displays 35 of our home products in their full range of colors and materials to match any home interior and assist you throughout your day. Deciding between a Nest Audio in the color Sage or a Nest Mini in the color Sky? Now you can easily see what best fits in with your own home.  

A Pixel phone, coffee cup, vase, books and Pixel Buds stand on a shelf inside a Discovery Box.

Discovery Boxes. New custom transparent LED screens line the interior windows providing information about our newest products, their features and new solutions that are unlocked when you use them together.

A person sits on a couch with a dog in a living room outfitted with Nest products.

Step in and play in our Sandboxes. These rooms let you experience our products in real-life scenarios. In our Nest Sandbox, you can see how all our Nest products provide useful solutions in a simulated living room. 

Chairs and ottomans stand in a room with screens to play Stadia games on.

In our Stadia Sandbox, you can play games on Stadia.

A person poses in front of a neon-lit New York cityscape in a dark room.

In our Pixel Sandbox, you can check out Pixel's newest camera features within a custom light installation.

A person shows a Pixel phone to another person holding Pixel Buds.

All your technology questions answered. The Here to Help support desk has associates available to assist with any needs, including Pixel on-site repair. 

Six people stand and sit in a large meeting space containing a big screen and a Google 'G'.

Hands-on learning. Our Workshop space will host regular events and workshops, such as story time for families, cooking demos with Nest, photography lessons on Pixel, YouTube concerts and more.
We're so incredibly proud of the work our teams have accomplished together since we first began this project almost four years ago, and we look forward to introducing Google's first store to the world. We can't wait for you to experience it firsthand, starting June 17 at 10 a.m. Eastern, and see all the great things we've been working on.
Qualche giorno fa vi avevo preannunciato la risoluzione di un mistero astronomico che avrebbe smontato i catastrofisti: ora l'embargo alla notizia (adottato come consueto per coordinare l'uscita mediatica) è terminato e posso quindi spiegare di cosa si tratta (avevo lasciato indizi enigmistici già nel preannuncio, ma non sembra averli colti nessuno).
Ricordate il panico periodico per la stella Betelgeuse, che secondo i giornali generalisti (tipo il Corriere della sera) minaccia di esplodere tanto violentemente che la Terra potrebbe essere "illuminata e riscaldata" da "due soli nel cielo"? Sì, questa stupidaggine la scriveva davvero il Corriere nel 2011. 
Ne avevo scritto anch'io nel 2010, quando era emerso lo stesso allarme. Ogni tanto questa storiella riaffiora e va, come al solito, smentita e spiegata per l'ennesima volta.
Betelgeuse è una stella gigante che dalla Terra è visibile a occhio nudo nella costellazione di Orione: è indicata dalla freccia nell'immagine qui sopra, tratta da Wikipedia. Ha una massa venti volte maggiore del nostro Sole e un diametro circa mille volte più grande: se si trovasse al posto del Sole, la Terra e Marte sarebbero al suo interno. È una delle pochissime stelle di cui i nostri attuali telescopi riescono a scorgere qualche dettaglio della superficie. Oltre a essere immensa, è anche molto luminosa: circa centomila volte più del Sole, tanto che è fra le dieci stelle più brillanti nel nostro cielo nonostante si trovi a circa 640 anni luce di distanza (circa 6 x 1015 chilometri) da noi.
Questa stella ha una particolarità: ogni tanto cambia luminosità abbastanza di colpo. La variazione è talmente marcata che è rilevabile a occhio. A fine 2019 e all'inizio del 2020 Betelgeuse ha avuto uno di questi repentini, inspiegati cali di luminosità, per poi tornare alla brillantezza consueta ad aprile 2020. Ma stavolta gli astronomi hanno usato il telescopio VLT dell'ESO (European Southern Observatory), in Cile, per esaminare in dettaglio la situazione.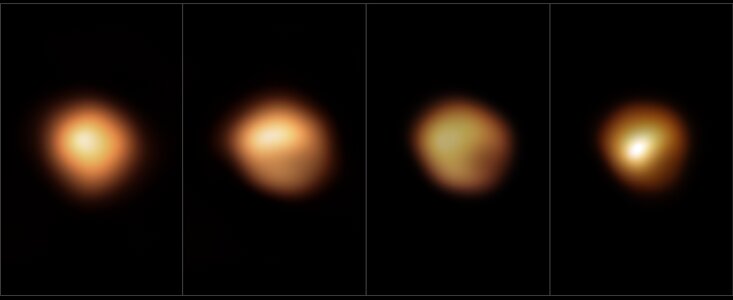 La superficie di Betelgeuse prima e durante il grande affievolimento del 2019-2020: da sinistra, gennaio 2019, dicembre 2019, gennaio 2020, marzo 2020. Immagine ottenuta dal telescopio VLT. Credit: ESO/M. Montargès et al.
L'astronomo Miguel Montargès (Observatoire de Paris e KU Leuven) e i suoi colleghi hanno cominciato ad acquisire immagini e hanno visto che la superficie di Betelgeuse era significativamente più scura, specialmente nella sua regione meridionale. Le immagini hanno mostrato un cambiamento rapidissimo, nel giro di qualche settimana, assolutamente straordinario per un oggetto celeste di dimensioni così colossali.
Le immagini pubblicate oggi sono le uniche che documentano questa variazione di luminosità in così grande dettaglio. Qui sotto potete vedere un video che mostra la variazione di Betelgeuse.
I ricercatori coordinati da Montargès hanno pubblicato su Nature i risultati delle loro indagini: l'offuscamento misterioso è causato da un velo di polvere causato da un calo della temperatura superficiale della stella.
La superficie di Betelgeuse, spiegano i ricercatori, cambia quando delle enormi bolle di gas si spostano o cambiano dimensioni al suo interno, e la stella ha espulso una di queste bolle giganti poco prima dell'affievolimento del 2019-2020. La superficie si è poi raffreddata (relativamente parlando) e questo calo ha consentito al gas espulso di condensarsi e formare polvere solida, come si vede nell'animazione seguente.
Questo evento ha consentito di osservare la nascita della polvere stellare e ha dimostrato che avviene molto rapidamente e nelle immediate vicinanze delle stelle stesse ("vicinanze" su scala cosmica: un paio di miliardi di chilometri). Questa polvere contiene gli elementi dai quali si formano i pianeti e, in ultima analisi, la vita.
La spiegazione degli astronomi mette a tacere le teorie secondo le quali il calo di luminosità era un'avvisaglia della morte imminente di Betelgeuse in una spettacolare esplosione (supernova).
Le future osservazioni della stella, in particolare con l'Extremely Large Telescope (ELT) dell'ESO, permetteranno di vedere direttamente Betelgeuse in notevole dettaglio e di approfondire la nostra conoscenza del fenomeno. Ma già adesso abbiamo avuto, a occhio nudo, la dimostrazione che il firmamento non è così fisso come molti pensano.
La vicenda di Betelgeuse, il catastrofismo mediatico e la sua risoluzione scientifica sono un ottimo esempio della differenza fondamentale fra inspiegabile e inspiegato. Moltissimi fenomeni vengono definiti troppo disinvoltamente "inspiegabili", quando in realtà sono spiegabilissimi se si riescono a ottenere informazioni sufficienti. Restano inspiegati, ma non inspiegabili, se queste informazioni non emergono. Tutto qui. Qualunque riferimento alla recente mania per gli avvistamenti militari di UFO "inspiegabili" è assolutamente intenzionale.
La ricerca di Montargès e colleghi è pubblicata su Nature con il titolo "A dusty veil shading Betelgeuse during its Great Dimming" (https://doi.org/10.1038/s41586-021-03546-8).
Questo articolo fa parte delle Storie di Scienza: una serie libera e gratuita, resa possibile dalle donazioni dei lettori. Se volete saperne di più, leggete qui. Se volete fare una donazione, potete cliccare sul pulsante qui sotto. Grazie!