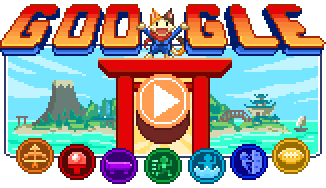 In a few hours, the best athletes from around the world will come together in Tokyo to compete on the world's largest stage. While everyone on the ground prepares for the matches and meets, we're getting ready, too. 
We hope technology can help everyone enjoy the Games safely at a distance this year. Here are six ways Google is helping bring you all the action from the Olympic Games Tokyo 2020:
1. Stay up to speed (without breaking a sweat) with Google Search
When you search for the Olympics you'll be able to find the latest information on your favorite events, sports and players, and even see where your country ranks in the race for gold. If you can't tune into the Games live, don't worry — you can watch a daily recap video or check out the top news related to the Olympic Games. For data aficionados, check out our Trends page to see fun Search stats on your favorite sports.
2. Take a timeout with the Doodle Champion Island Games
Join in on the action with our largest-ever interactive Doodle game, created in collaboration with Japanese animation STUDIO 4°C. Click on the Doodle to enter the gameworld, join a team and compete against reigning Champions across skateboarding, rugby, climbing and more — all in retro 16-bit glory. Keep a lookout for dozens of surprises and side quests as you journey through Doodle Champion Island.